Nestle waits for market pressures to soften Hershey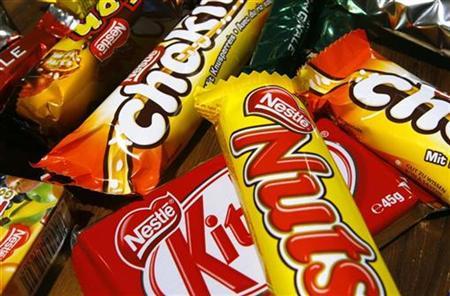 Swiss food group Nestle NESN.VX is likely to set itself a long-term goal to buy Hershey (HSY.N) after the Kraft-Cadbury deal, hoping that market pressures will wear down opposition from the controlling Hershey Trust.
Nestle, the world's largest food group is set to drop to No. 3 in the chocolate world behind Mars-Wrigley and Kraft-Cadbury, an unfamiliar role for a company that holds No. 1 or No. 2 positions in all its key segments.
Buying Hershey would solve that problem to put it at No. 1, and while the charitable Hershey Trust controls 80 percent of voting shares at the maker of Hershey Kisses, effectively blocking any takeover, analysts believe hurdles preventing a takeover or even a joint venture will now start to ease.
They argue that after Kraft KFT.N and Cadbury CBRY.L join together, Hershey's main U.S. market will become more competitive and that Hershey as a pure confectionery player is more exposed to commodity costs like cocoa and sugar than wider ranging groups.
"We believe a deal for Hershey could be secured at around $10-11 billion plus a $2 billion debt take-out," said analyst Deborah Aitken at brokers Bryan Garnier.
This would put Hershey's price on a multiple of 14 times its underlying operating profit, or earnings before interest, tax, depreciation and amortization, compared to the Kraft-Cadbury deal agreed at 13 times EBITDA, Aitken added.
Kraft is expected to seal its recommended 11.6 billion pound ($18.7 billion) deal for Cadbury...
More